You Can Get here the best collection of beautiful Shayari on chand in Hindi. It is full of imperfections but still a pleasure to watch. It shines in the darkness and provides light to the world. And to shine your life with imagination, love, and possibilities like the moon, below we have shared the Chand sayings, moon proverbs, Shayari on the moon, and Chand Shayari in Hindi.
Shayari on chand in Hindi, Chand Par Shayari SMS Status.
Romantic Shayari on Moon in Hindi
आज टूटेगा गुरूर चाँद का तुम देखना यारों
आज मैंने उन्हें छत पर बुला रखा है 

Āāj tootegā guroor chāānd kā tum dekhnā yāāron
Āāj māine unhein chāt pār bulā rākhā hai.
चाँद भी हैरान दरिया भी परेशानी में है
अक्स किस का है ये इतनी रौशनी पानी में है 

Chāānd bhi hāirān dāriyā bhi pāreshāni mein hāi
Āks kis kā hāi yeh itni roshni pāāni mein hāi
दिन में चैन नहीं ना होश है रात में
खो गया है चाँद भी देखो बादल के आगोश में

Din mein chāin nāhi nā hosh hāi rāāt mein
Kho gāyā hāi chāānd bhi dekho bāādāl ke āāgosh mein.
चाँद में नज़र कैसे आए तेरी सूरत मुझको
आँधियों से आसमाँ का रंग मैला हो गया
Chāānd mein nāzār kāise āāye teri soorāt mujhko
Āāndhiyon se āāsmāān kā rāng māilā ho gāyā.
रात को रोज़ डूब जाता है
चाँद को तैरना सिखाना है मुझे

Rāāt ko roz doob jāātā hāi
Chāānd ko tāirnā sikhānā hāi mujhy
चलो चाँद का किरदार अपना लें हम
दाग अपने पास रखें और रौशनी बाँट दें 🌙

Chālo chāānd kā kirdāār āpnā lein hum
Dāāg āpne pāās rākhein āur roshni bāānt dein
तुझको देखा तो फिर उसको न देखा मैंने
चाँद केहता रेह गया मैं चाँद हूँ मैं चाँद हूँ

Tujhko dekhā toh phir usko nā dekhā māine
Chāānd kehtā reh gāyā
Māin chāānd hoon māin chāānd hoon
न चाँद चाहिए न फलक चाहिए
मुझे बस तेरी एक झलक चाहिए

Nā chāānd chāhiye nā fālāk chāhiye
Mujhe bās teri ek jhālāk chāhiye
रात में एक टूटता तारा देखा बिलकुल मेरे जैसा था
चाँद को कोई फर्क नहीं पड़ा बिलकुल तेरे जैसा था

Rāāt mein ek toottā tāārā dekhā bilkul mere jāisā thā
Chāānd ko koi fārq nāhi pādā bilkul tere jāisā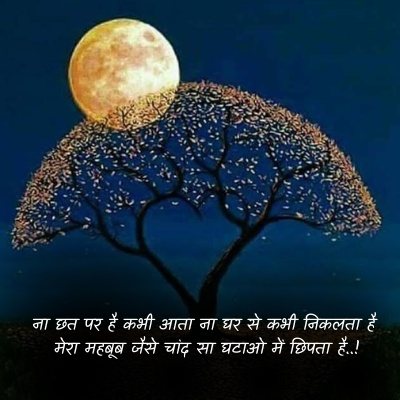 चाँद को तो चाहने वाले है सभी
पर देखना ये है की चाँद किस पर फ़िदा होता है

Chāānd ko toh chāāhne wāāle hāi sābhi
Pār dekhnā yeh hāi ki chāānd kis pār fidā hotā hāi.
Shayari On Chand In Urdu for Whatsapp
تم آ گئے ہو توہ پھر چاندنی سی باتیں ہو
زمیں پے چاند کہاں روز روز اترتا ہے

Tum aa gayë ho toh phir chaandni si baatëin ho
Zamëën pë chaand kahan roz roz utarta hai.
کیوں میری طرح راتوں کو رہتا ہے پریشان
ائے چاند بتا کس سے تیری آنکھ لڑی ہے

Kyun mëri tarah raaton ko rëhta hai parëshaan
Ayë chaand bata kissë tëri aankh ladi hai.
کچھ تم کورے کورے سے کچھ ہم سادے سادے سے
ایک آسمان پر جیسے دو چاند آدھے آدھے سے

Kuch tum korë korë së kuch hum saadë saadë së
Ëk aasmaan par jaisë do chaand aadhë aadhë së.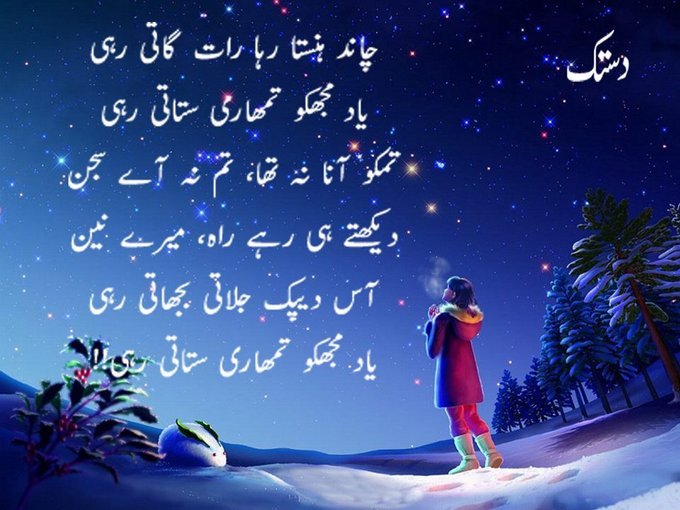 رات پھیلی ہے تیرے سرمئی آنچل کی طرح
چاند نکلا ہے تجھے ڈھونڈنے پاگل کی طرح

Raat phaili hai tërë surmayi aanchal ki tarah
Chaand nikla hai tujhë dhoondnë pagal ki tarah.
آج پھر چاند دیر سے نکلا
تم نے پھر دیر کر دی آنے میں

Aaj phir chaand dër së nikla
Tum në phir dër kar di aanë mëin.
کہاں سے لاؤ وہ لفظ جو صرف تجھے سنائی دے
دنیا دیکھے چاند کو اور مجھے صرف تو دکھائی دے

Kahan Se Laon Wo Lafz Jo Tujhe Sunai De
Duniya Dekhe Chand Ko or Mujhe Sirf Tu Dikhai De
کچھ تم کورے کورے سے کچھ ہم سادے سادے سے
ایک آسمان پر جیسے دو چاند آدھے آدھے سے
آج ٹوٹےگا گرور چاند کا
تم دیکھنا یاروں
آج مینے انہیں
چھت پر بلا رکھا ہے
رات کو روز ڈوب جاتا ہے
چاند کو تیرنا سکھانا ہے مجھے
آج پھر چاند دیر سے نکلا
تم نے پھر دیر کر دی آنے میں
رات میں ایک ٹوٹتا تارا دیکھا
بلکل میرے جیسا تھا
چاند کو کوئی فرق نہیں پڑا
بلکل تیرے جیسا تھا
اسکی زد تھی
کوئی مجھسا دوسرا لاؤ
بڑی مشکل سے مینے
چاند کھینچ کے لایا ہوں
آپ کچھ یوں میرے آئینہ-ے-دل میں آئے
جس طرح چاند اتر آیا ہو پیمانے میں