Check Out Mirza Ghalib Shayari in Hindi 2 Lines is a very famous topic with rarely available posts. On behalf of this legendary, We produce his 2 lines Status and Shayari on life popularly known as Mirza Ghalib Shayari in roman English. Mirza Ghalib was a well-known famous poet and author recognized worldwide. See More Poetry on Our Site.
Mirza Ghalib Shayari In Hindi 2 Lines
कौन पूछता है पिंजरे में बंद पक्षी को ग़ालिब ..
याद वही आते है जो छोड़कर उड़ जाते है !!
मुझसे कहती है सादा तेरे साथ राहूंगी ..
बोहोत प्यार करती हैं मुझसे उदासी मेरी !!
दिल ए नादाँन तुझे हुआ क्या है !!!
आख़िर ईस दर्द कि दवा क्या हैं
इशरत ऐ क़तरा है दरिया मैं फ़ना हो जाना…
दर्द का हद् से गुज़ारना हैं दवा हो जाना
दिल से तेरी निगाह जिगर ताक उतर गया..
दोनों को इक आदा में रज़ामंद कर गया
गुज़र रहा हू यहाँ से भी गुज़र जाउँगा..
मै वक़्त हू कहीं ठहरा तो मर जाउँगा !!!
रगों में दौड़ते फिरने के हम नहीं है क़ायल,
जब आपनि आँख से ना टपका तो फिर लहू कया हैं !!
उम्र भर ग़ालिब यही भूल करता रहा ..
धुल था चहरे पे और आईना साफ़ करता रहा!!
चाँदनी रातो कि खामोश सितारो के कसम,
दिल मै आब तेरे सिवा कोई भि आबाद नही !!!
मेरे जेब में जहां पर जरा सा छेद किया हुआ ..
सिक्के से जादा मेरे रिस्ते गिर गेए !!
Mirza Ghalib Shayari In English Two Lines
Dard jabbhi dil me hoo toh dawaa kijiye..
Dil hi jab daard ho toh kya kijiye !!
Aaina par Dekh ke Apna Sa Moonh LeKe Rehe Gaye..
Malik Ko Dil Na Dene Pe itna Guroor Tha !!
Mohabbat me unki ana ka pass rakhte hai,
Hum jankar aksar unhe naraz rakhte hai !!
Hai ek teer jis me dono chhide pare hai..
vah vaqt gae ki apane man se jigar juda tha !!
Mai bohot Nadan Tha Jo Wafa Ki Talash Karta Raha harpal,
Yeh tak Na Socha Ki Ek Din Apni Shaans Bhi Bewafa Ho Jayegi !!
bitaane hue lamhon ko main ek baar to jee lo…
Kuch Khowab Tera Yaad Dilane Ke Liye Hai …
Behwaza nehi rota ishq mai koi galib…
Jisko khud se barkar chaho, woh rulata jarur hai !!!
tera phirane ka intazaar me neend na aaee umr bhar,
Aane ka ahaad kar gaye aaye jo roz khowab mai !!
Aaya Hai Be Kasi-e-Ishq Pe Rona Ghalib,
Pata nehi Kiske Ghar Jayega Sailab-e-Bala Mere Baad !!
Mohabbat mai nehi rahete fark jine marne ka ..
Usi ko dekh kar jita hoon jis kafir pe dam nikle !!!
Mirza Ghalib Shayari on love
"Lest we forget:
It is easy to be human, very hard to be humane"
"Yaad-e-Mazi Aazab Hai Ya Rab…
Cheen Lay Mujh Say Hafiza Mera………!!!"
"If there is a knower of tongues here, fetch him;
There's a stranger in the city
And he has many things to say."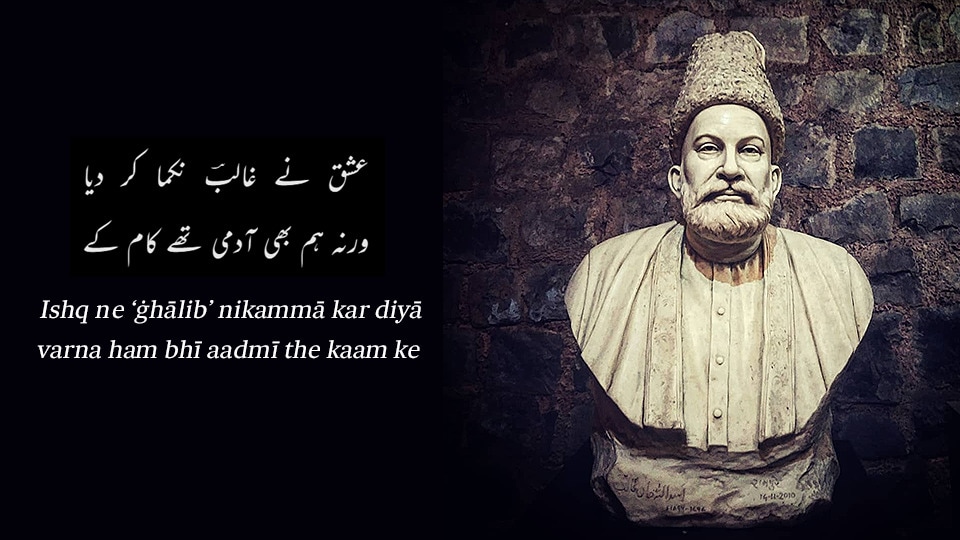 "sharab peene de masjid mein beth kar,
Yaa woh jagha bata jahan Khuda nahin.."
"Bazeecha-e-atfal hai duniya mere aage,
Hota hai shab-o-roz tamasha mere aage"
"Whereas it is difficult for everything to work out easily,
A man cannot even afford to be a human"
"The object of my worship lies beyond perceptions reach;

For men who see, the Ka'ba is a compass, nothing more."