Get a unique collection of daily Jaun Elia Shayari in Urdu 2 lines status image quotes in English. जौन एलिया poetry Quotes 2 line from here. We hope you like Jaun Elia's sad poetry in Hindi, Urdu & English. Jaun Elia Shayari Urdu, Jaun Elia sad poetry. if you want more jaun Elia quotes in Urdu and Hindi on Shayari Lines in English and go down and click the related post.
Best Jaun Elia Poetry In English and Urd/Hindi, Sad Poetry Images.
Jaun Elia 2 line Shayari in English
Ik Shakhs Kar Raha Hai Abhi Tak وفاکا Zikar
Kash! Is Zuba Draz ka Mun Noch Le Koi
Thi Kisi Shakhs Ki Talaash Mujhe
Mein Ny Khud Ko Hi Intikhab Kya
Itni Shddt Ki Baghaawat Hai Mere Jazbun Mein
Mein Kisi Roz Mohabbat Se Makr Jaoon Ga
Pal Qayamat Ke Sood Khawar Hain June
Yeh Abadd Ki Kamaai Karte Hain
Hay Mujhe Chain Kyun Nahi Parta
Aik Hi Shakhs Tha Jahan Mein Kya ?
Mein Tumahray Hi Dam Se Zindah Hon
Mar Hi Jaoon Jo Tum Se Fursat Ho
Khuwaishe Dil Ka Sath Chore Gayeen
Yeh Aziat Barri Aziat Hai
Ho Raha Hon Mein Kis Terhan Barbaad
Dekhnay Walay Haath Mlitay Hain
Ik Teri Barabari Ke Liye
Khoo Daal Ko Kitna Gira Chuka Hon Mein
Baat Yeh Hai Ke Log Badal Gaye Hain! !
Zulm Yeh Hai Ke Woh Mante Bhi Nahi! !
Mein Kya Batau Kisi Be Wafa Ki Majaboori
Kabhi Khayaal Jo Aaya To Aankhh Bhar Aayi
Kya Mein Usko Teri Talaash Kahoon. . ?
Dil Mein Ik Shoq Hai Judai Ka. .! !
Jany Kya Wa قعہ Hai Ho Ne Ko
Jee Chahta  hay rone ko
Aa Basey Hain Tairay Deyaar Se Daur
Rehne Walay To Hum Wahein Ke Hain
John Elia Urdu Poetry 2 Lines
سو چتا ہوں کبھی کبھی یوں ہی

آ خر ہرج کیا تھا،اسے منا نے میں
اب کے سینہ اس بدن افگار کا 

کس بدن کی ڈھال ہے پوچھو خبر
تو کبھی سوچنا بھی مت تو نے گنوا دیا مجھے

مجھ کو مرے خیال کی موج بہا کے لے گئی
وہ خوشبو مجھ سے بچھڑی تھی یہ کہہ کر 

منانا سب کو پر اب روٹھنا نئیں
مجھ پہ کسنے لگے ہو آوازیں
اتنی اوقات ہو گئی ہے کیا
میں نے سب خواہشوں کو ٹال دیا
اپنے دل سے تمہیں نکال دیا
ایذا دہی کی داد جو پاتا رہا ہوں میں
ہر ناز آفریں کو ستاتا رہا ہوں میں
تجھ سے گلے کروں تجھے جاناں مناؤں میں
اک بار اپنے آپ میں آؤں تو آؤں میں
ہجر کی آنکھوں سے آنکھیں تو ملاتے جائیے
ہجر میں کرنا ہے کیا؟ یہ تو بتاتے جایئے
علاج یہ ہے کہ مجبور کر دیا جاؤں
وگرنہ یوں تو کسی کی نہیں سنی میں نے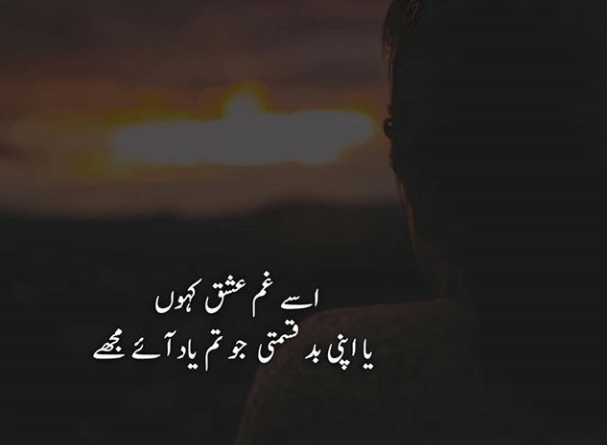 رنج ہے حالت سفر حال قیام رنج ہے
صبح بہ صبح رنج ہے شام بہ شام رنج ہے
ہم تو جیسے وہاں کے تھے ہی نہیں
بے اماں تھے اماں کے تھے ہی نہیں
نہیں شوریدگانِ شہر میں وہ سوزِ جاں اب کے​
ہیں شامیں سوختہ جانوں کی بے شورِ فغاں اب کے​
ہیں شوقِ گرمئ آغوش کے جذبے زمستانی​
شب اندر شب ہو جیسے برفباری کا سماں اب کے​
کوئی لہجہ یہاں شعلے پہن کے اب نہیں آتا
کچھ کہوں، کچھ سنوں، ذرا ٹھہرو
ابھی زندوں میں ہوں، ذرا ٹھہرو
اک ہنر ہے جو کر گیا ہوں میں
سب کے دل سے اتر گیا ہوں میں
تم جب آؤگی تو کھویا ہوا پاؤگی مجھے
میری تنہائی میں خوابوں کے سوا کچھ بھی نہیں