Romantic Good Night Poetry in Urdu Images
Are you Looking for Subh Raatri/Shabba Khair Shayri in Urdu, We are providing a Large Collection of the best good night Shayari love, good night images Shayari, Quotes, and status. I hope you'll like this collection of Poetry for Good Night.
Wo Shakhs Tera Nahi Kisi Aur Ka Hai Aey Mere Yaar ChupKe Se Soo Jaa..
Ye Suhani Raat Rony Ke Liye Nahi Sony Ke Liye Hai..!!
हर सपना कुछ पाने से पूरा नहीं होता,
कोई किसी के बिन अधूरा नहीं होता,
जो चाँद रौशन करता है रात भर सब को,
किसी रात वो भी तो पूरा नहीं होता।
---
Teri in Pyaari si Palkon Me Rehna Hai Mujhy Raat Bhar Ke Liye.
Aye Sanam..!
Mein To Ek Khawaab Hun,Subha Hoty Hi Chala Jaunga.
Good Night.!
जाने कब आपकी आँखों से इजहार होगा,
आपके दिल में हमारे लिए प्यार होगा,
गुजर रही है ये रात आपकी याद में,
कभी तो आपको भी हमारा इंतज़ार होगा।
शुभरात्रि
---
Raat Ko Jab Chaand Sitary Chamakty Hain,
Hum Hardum Aapki Yaad Mein Tadaptey Hain,
Aap To Chaly Jaate Ho Chhod Ker Humein,
Hum Raat Bhar Aapse Milny Ko Taraste Hain.
Good Night..<Missing You>
रात को जब चाँद सितारे चमकते हैं..
हम हरदम आपकी याद में तड़पते हैं..
आप तो चले जाते हो छोड़कर हमें..
हम रात भर आपसे मिलने को तरसते हैं..
---
Dil ke sagar mein leharein uthaya na karo,
Khwaab bankar neend churaya na karo,
Bahut chot lagti hai mere dil ko,
Tum khwaabon mein aa kar yun tadpaya na karo. ?
Good Night Life-Line..!
दिल के सागर में लहरें उठाया ना करो,
ख्वाब बनकर नींद चुराया ना करो,
बहुत चोट लगती है मेरे दिल को,
तुम ख्वाबो में आकर युँ तडपाया ना करो! ?
Good Night Life-Line..!
---
Tanhaa Raat Mein Jab Humeri Yaad Sataye,
Hawaa Jab Aapky Baalon Ko Sehlaaye,
Kar Lena Aankhein Band Aur So Jana,
Shayad Hum Aapky Khawabon Mein Aa Jaaye.
Good Night & Sweet Dreams my Dear
तन्हा रात में जब हमारी याद सताये,
हवा जब आपके बालों को सहलाये,
कर लेना आँखें बंद और सो जाना,
शायद हम आपके ख्वाबों में आ जाये।
शुभरात्रि।
Good Night Shayari In Urdu
رات تو کیا پوری زندگی جاگ کر گزاروں گی"

"تو بس کہہ تو سہی کہ تجھے میرے بنا نیند نہیں آتی
نیند سوتی ہے میرے بستر پر"

"میں ٹہلتا ہوں رات بھر
تیری نیند کا صدقہ"

"ہم جاگ کر اُتارتے ہیں
جاگنے کی کوئی خاص وجہ نہ تھی"

"بس ستاروں میں تجھے ڈھونڈتے رہے
سحر ہوئی تو میرے گھر کو راکھ کر دے گا"

"وہ اک چراغ جسے رات بھر بچایا ہے
نیند والے سمجھ نہ پائیں گے"

"رات بھر جاگنے والوں کا دُکھ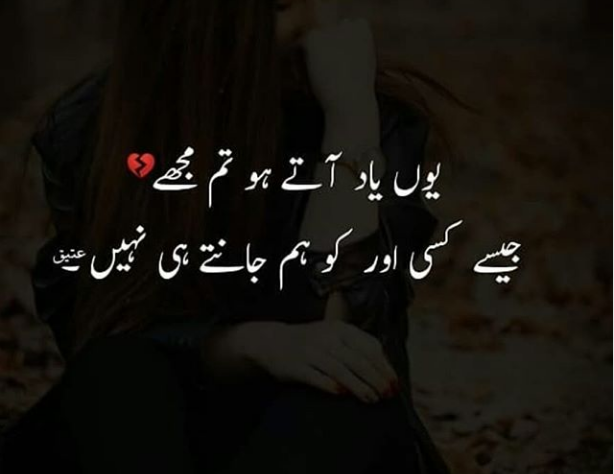 آج پھر اچھی گزرے گی رات"

"آج پھر ابتدا درد سےہوئی ہے
بن سوئے جو میری گزر گئیں"

"وہ راتیں تم پر قرض ہیں
 رات بھر جاگتے ہیں ہم کچھ ایسے لوگوں کی خاطر"

"جنہیں کبھی دن کے اُجالوں میں بھی ہماری یاد نہیں آتی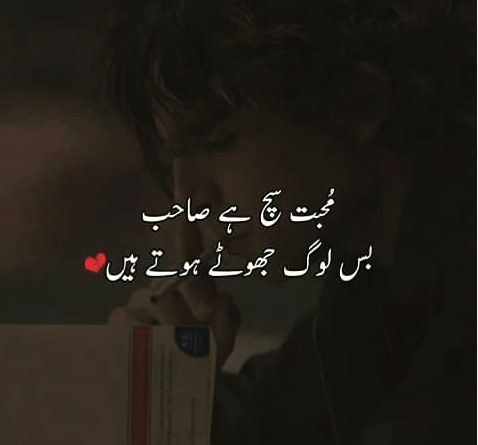 لوگ شور سے اُٹھ جاتے ہیں"

"مجھے تیری خاموشی سونے نہیں دیتی
Log Shor Say Uth Jaty Hain

Mughe Teri Khamoshi Sony Nahi Deti
Intezar Good Night Shayari for Boyfriend
Raat ko agar kisi ki yaad tumhe sataaye,
Hawaa ka jhonka agar tumhaare baalon ko sehlaaye,
Karlo apni aankhein band aur so jaao,
Kya pata jiski tumhe yaad aa rahi hai wo tumhaare sapno mein aa jaaye !!
Good Night
Charon taraf bikhri hai moonlight,
Machchar bhi hai dene ko taiyaar tumhe lovebite,
Sirhaane ko apne gale se lagaa ke sone kaa tight,
Bole to beete tumhaari pyaari si ye night !!
Good Night
Bankar lafz hum kitaabon mein milenge,
Bankar khushboo hum gulaabon mein milenge,
Vaada karte hain jab kabhi bhi karoge yaad humein,
Bankar hum haseen pal aapke khawaabo mein milenge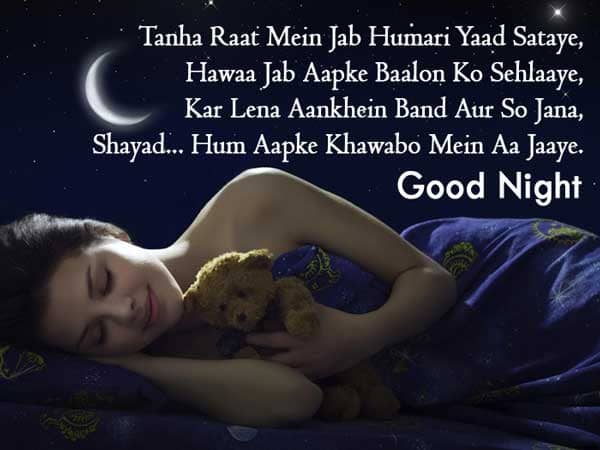 Jab bhi raat ko tumhaari yaad aati hai,
Taaron mein tumhaari tasveer nazar aati hai,
Dhoondhati hai aankhein meri tumhaare chehre ko
Jiski yaad mein raat guzar jaati hai
Palkon pe hamaari dene dastak koi khawaab aane wala hai,
Khabar yebhi mili ki wo sapna poora hone wala hai,
Humne us khawaab se kaha ki mere dost ki palkon mein chala jaa,
Kyonki mera pyaara dost abhi sone wala hai !!
Dua hai ki aaj raat chaandni aapke ghar mein aaye,
Ye taare saare lori gaakar aapko sulaaye,
Ho aapke pyaare saare khawaab
Ki neend mein bhi aap saari raat muskuraaye !!
Shubh Raatri !!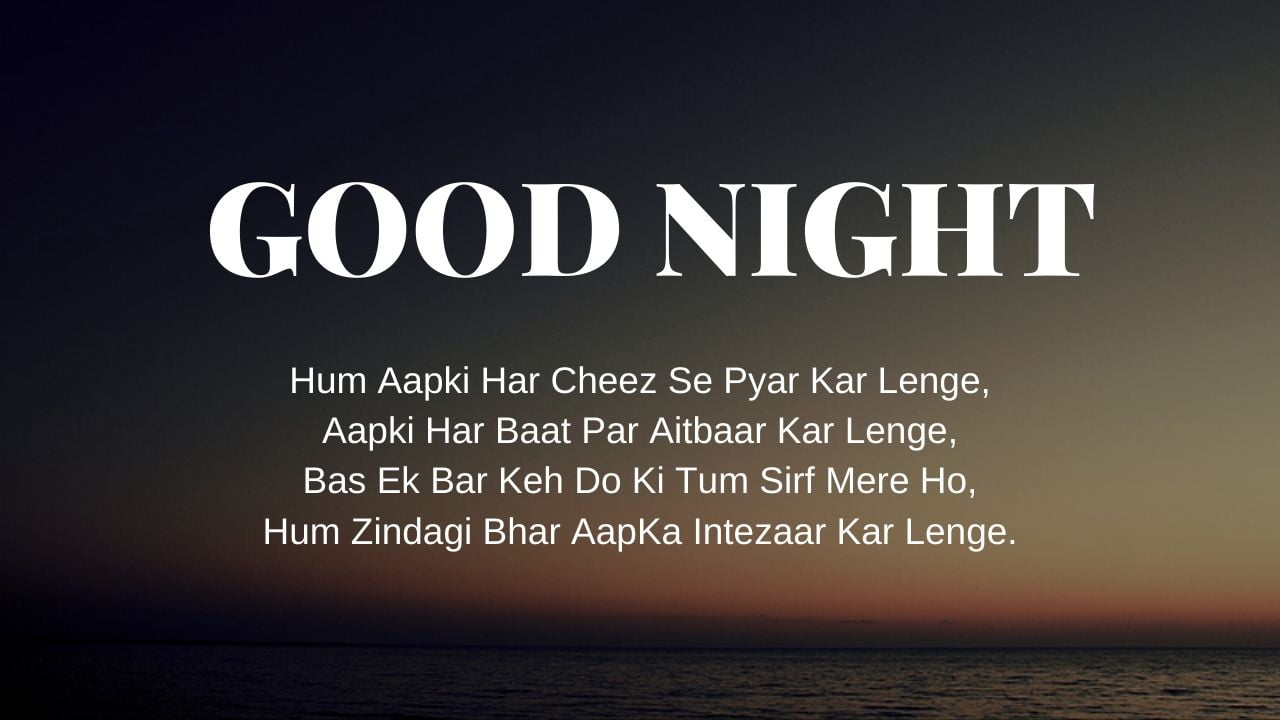 Sitaaron ki chaaon mein maine ek paalki banayi hai,
Ye paalki maine bade hi pyaar se sajaai hai,
E hawa jaraa dheere-dheere chalna,
Mere dost ko bahut hi pyaari si neend aayi hai !!
Dil chaahta hai ki aapse pyaari baat ho,
Haseen chaand sitaaron ke saath lambi si raat ho,
Phir raatbhar yoonhi baatein karte rahein hum dono,
Aap hi meri zindagi ho aur aap hi kaaynaat ho !!
Raat ho chuki hai bahut,
Ab to chiraag bujha dijiye,
Ek haseen khawaab dekh raha hai raah tumhaari,
Bus apni palkon ke parde gira dijiye !!
Good Night!!!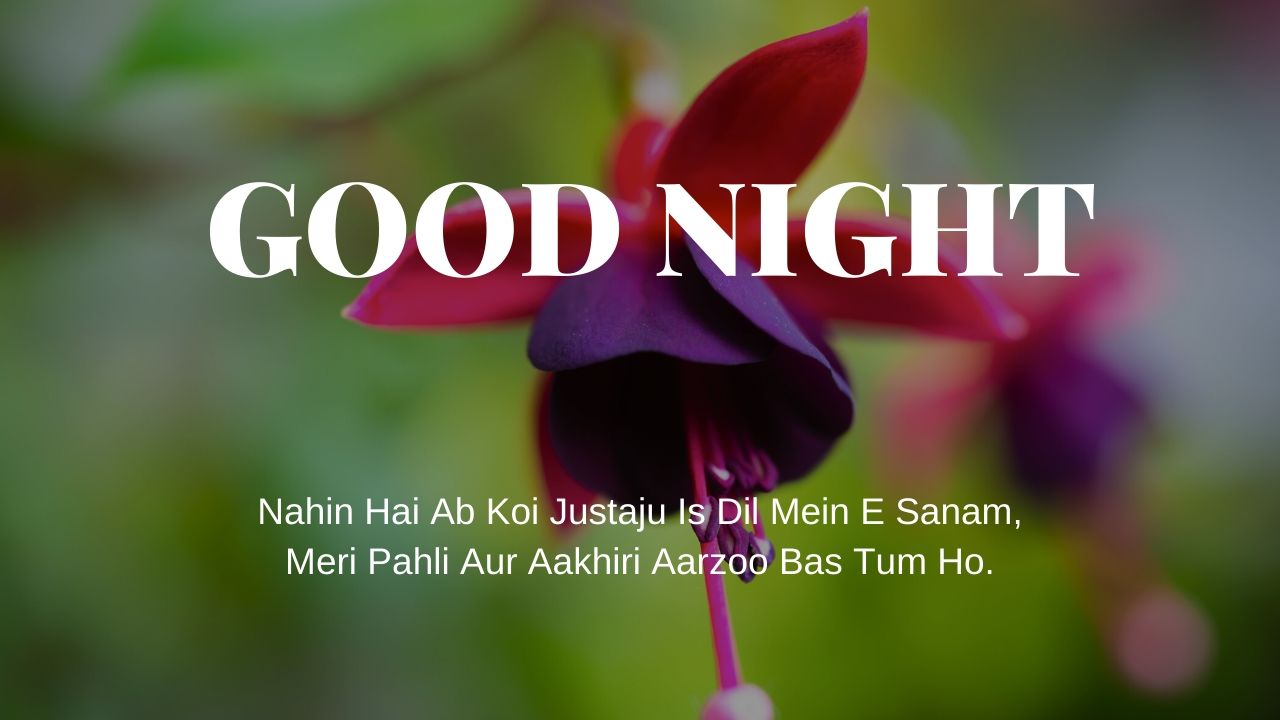 Mera naam lekar soya karo,
Khidaki kholke takiya modkar soya karo,
Main bhi aaunga aapke khayaalon mein,
Isliye palang par thodi jagah chhodkar soya karo