A huge collection of Good Afternoon shayari urdu hindi, english sad shyari love shayari aqwal e zareen urdu hindi quotes romantic shayari heart touching urdu  shayari hindi shayari 2 line poetry best shayari photos 2 line poetry sad poetry whatsapp status shayari love sad whatsapp status images 2021.
Best Good Afternoon Poetry in Hindi |Dosti, Gf , Bf Massages & status|
आँखों में रहने वाले को याद नहीं करते ,

दिल में रहने वाले की बात नहीं करते ,

हमारी तो रुह में बस गए हो आप ,

तभी तो मिलने की फरियाद नहीं करते..
Good afternoon sun preaching my loved ones,

Do not leave the house at all after sunny afternoon.!
,غالبؔ چھٹی شراب پر اب بھی کبھی کبھی

!.پیتا ہوں روز ابر و شب ماہ تاب میں
Jab Bhi Mujhe Yaad Tumhari Aati Hai,

Labon Pe Mere Bas Yahi Fariyad Aati Hai,

Zindagi Mein Khuda Har Khushi De Tumhy Hamari,

Toh Har Khushi Aapki Khushi Key Bad Aati Hai.

Good Afternoon Dear!
---
Thanks a friend for coming into my life,

for making every moment so beautiful,

you have written my name on every happiness,

thank you for making me such a happy fate.

 Good afternoon friend.!
बागो मे फूल खिलते रहेंगे,

रात मे दीप जलते रहेंगे,

दुआ है भगवान से की आप खुश रहो,

बाकी तो हम आपको "मिस" करते रहेंगे,

Good Afternoon!
,جس جا مکین بننے کے دیکھے تھے میں نے خواب

..اس گھر میں ایک شام کی مہمان بھی نہ تھی
Hotho se hotho ko chhu leny do,

Aaj mahuwa ka ras chhu leny do,

Chhupi hai kai shararati muskrahate,

Aaj ji bhar ke unhy sun leny do.

Good Afternoon!
---
Har dopahar aapko message karna acha lagta hai,

Aur ghanto chat par chating karna achcha lagta hai,

Sochta hoon din aur raat bas ap ke bry mein

Aap jab rooth jana to manana acha lagta hai.

Is pyare se dopahar ki pyari si good afternoon.

 Good Afternoon My Love
दिल प्यार में बेकरार भी होता है ,

दोस्ती में इंतज़ार भी होता है ,

होती नहीं है प्यार में दोस्ती पर ,

दोस्ती में शामील प्यार भी होता है.

Good Afternoon.!
,کل تھکے ہارے پرندوں نے نصیحت کی مجھے

.شام ڈھل جائے تو محسنؔ تم بھی گھر جایا کرو
The sun has come out, it is midday,

flowers have blossomed and birds have also flown from the nest,

awake from sleep my friends will be a sleep,

till now it is time to turn dreams into reality!
---
ISHQ kar deta hai bekarar,

Bhar deta hai pathar k dil mei pyar,

har 1 ko nahi milti zindagi ki yeh bahr,

kyunki ISHQ ka dusra nam hai Intezar.

Good Afternoon.!
Sm1 who truely luvs u,

will never tell u that they love u,

Bcoz they believe in making u feel,

their love rather than making u,

hear their love.!
जिन्दगी की हर सुबह,

कुछ शर्ते लेकर आती हैं,

और जिन्दगी की हर शाम,

कुछ तजुर्बे देकर जाती हैं.!
,دل ناامید تو نہیں ناکام ہی تو ہے

..لمبی ہے غم کی شام مگر شام ہی تو ہے
Good Afternoon Quotes in Hindi
जाने कितने लोग मिले है-इ

स दुनिया के मेले में

याद तुम्हारी ही आती है

अक्सर बैठ अकेले में
हँसते रहा करो दोस्तो

चिंता करने के लिये तो

बुढ़ापा आयेगा
कितना अजीब होते है ये अपनो के रिश्ते

कोई याद ना भी करे तो……

इंतजार रहता है उसका मैसेज का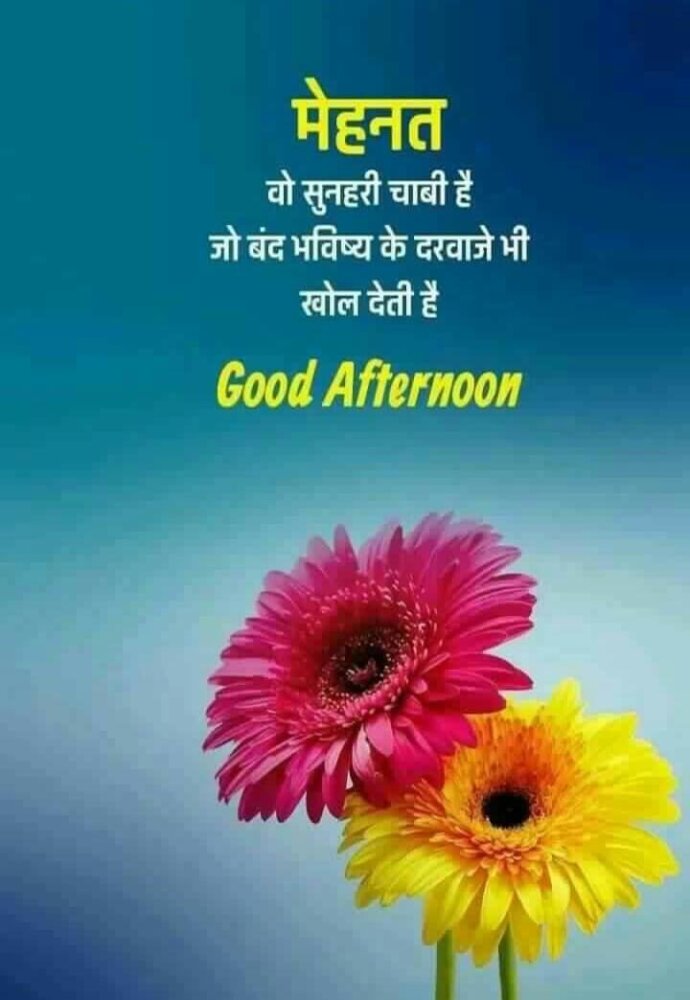 शुभ दोपहर

दूर रहकर करीब रहना

नजाकत है मेरी….

याद बनकर आखों मे बसना

शरारत हैं मेरी….

करीब न होते हुए भी

करीब पाओगे….

क्योंकि एहसास बनकर दिल

में रहना आदत हैं मेरी
रहँसता हुआ मन

और०

हँसता हुआ चेहराः

व्यही जीवन की

सच्ची संपत्ति है
गर्मी शुरू हो गई है आपके लिए

ठंडा पानी भेज दिया है पी लीजिएगा

ओए….

पानी वाली को वापस भेज देना

दूसरों को भी भेजना है
गर्मी बहोत जादा है,

आपके लिए

आईस्क्रीमा

भेज दी है।
वफ़ा करके के जो दिलों में बसते है..

खुदा कसम ऐसे दोस्तों पर..

हम दिलों ज़ां से मरते हैं!!!
उनके नाम का गुलाल हवा में

उड़ाया हमने

दूर से ही मोहब्बत के रिश्ते को

निभाया हमने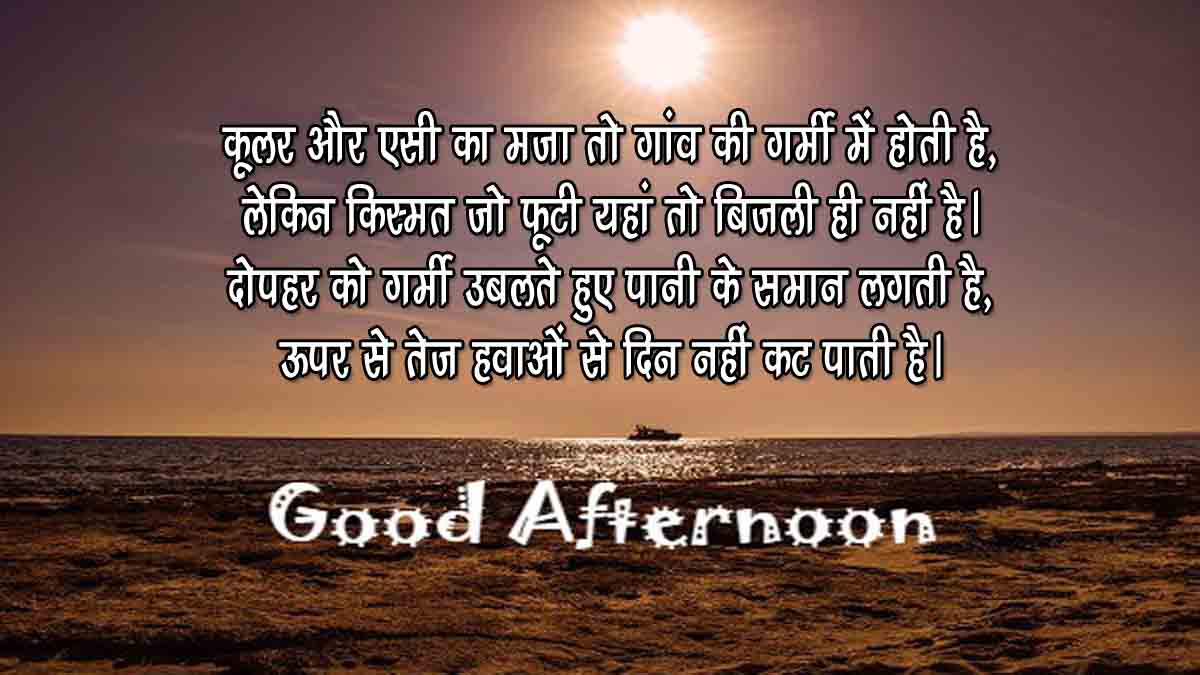 Good Afternoon Shayari in Hindi for Girlfriend
दिन के हर पहर तेरे ही मीठी बातें याद आते,
और उन मीठी बातों में हम भी शामिल होना चाहते,
शुक्र हैं शायरी भरी पड़ी है इंटरनेट पर
वरना ऐसे शायरों वाली शायरी आपको कैसे भेज पाते।
Din ke har pahar tere hi meethi baaten yaad aate,
Aur un meethi baaton mein hum bhi shaamil hona chaahate,
Shukr hain shayari bhari padi hai internet par
Warna aise shayaron wale shayari aapko kaise bhej paate.
चिलचिलाती धुप में प्यार का क्या पैगाम भेजे?

गुलाब के रूप में अपनी पसीने से महकती हवायें भेजे।
Chilchilati dhup mein kya pyaar ka paigam bheje
Gulab ke roop mein apni paseene se mahakti havaayen bheje.
हमें आपकी हर अदा से प्यार हो गया,
आपकी मुस्कुराहट पर यह दिल तुम पर न्योछार हो गया,
सोचा ना था कभी इज़हार मोहब्बत का कर पाएंगे आपसे,
आपका इश्क़ हमारे लिए अब संसार हो गया।
Humain apki har ada se pyar ho gaya,
Aapki muskurahat par yah dil tum par nyochhaar ho gaya,
Socha na tha kabhi izhaar mohabbat ka kar paenge aapse,
Aapka ishq humare liye ab sansar ho gaya
कलियाँ कबसे खिल चुकी है धीमे खुश्बू के साथ,

दोपहर होने को है अब उठ भी जाओ

लगता है नहीं करनी है तुम्हे नए दिन की शुरुआत।

– गुड आफ्टरनून
Kaliyan kabse khil chuki hai dheeme khushboo ke sath, 

Dopahar hone ko hai ab uth bhi jao

 Lagta hai nahin karni hai tumhe nae din ki shuruat. 

– good afternoon
चाहे हो दिन या हो रात
या फिर हो दोपहर की बात।
याद करते हैं तुम्हे हर पल
अब रहा नही जाता कब तेरे घर जाएगी मेरी बारात।
Chahe ho din ya ho raat
Ya phir ho dopahar ki baat.
Yaad karte hain tumhe har pal
Ab raha nahi jata kab tere ghar jaegi meri baraat.
चिलचिलाती धूप है, है गर्मी भरा दोपहर,
इसके गर्मी ने हर जगह मचा रखा है कहर,
फिर भी हमे इंतजार है आपसे मिलने का
और इस कड़कती धूप में घुमा दूंगा आपको सारा शहर।
Chilchilati dhoop hai, hai garmi bhara dopahar,
Iske garmi ne har jagah macha rakha hai kahar,
Phir bhi hume intajar hai aapse milane ka
Aur is kadakti dhoop mein ghuma dunga aapko sara shahar.