A huge Collection of Dhoka Shayari Urdu Hindi sad Shayari love Shayari Couplets on Dhoka Urdu Hindi quotes romantic Shayari heart touching Urdu Shayari Hindi Shayari 2 line poetry best-Shayari photos 2/4 lines poetry sad poetry dhokebaaz Shayari Broken heart status Shayari love sad Whatsapp status images 2021.
Nahi rkhty hum wafa ki umed kisi se,

Hum ne har taraf bewafai jo payi hai,

Mat dhoond humare chehre par zakhm ke nishan,

Hum ne har chot dil par khai hai.!
महसूस कर रहे है,

तेरी लपरवाहिया कुछ दिनों से ,

अगर हम बदल गए तो,

मनाना तेरे बस की बात नहीं.!
,نہ لٹتا دن کو تو کب رات کو یوں بے خبر سوتا

!.رہا کھٹکا نہ چوری کا دعا دیتا ہوں رہزن کو

 
Hum Kitne Bewafa Hain,

Ek Dum Unke Dil Se Nikal Gay,

Unme Kitni Wafa Thi,

Aaj Tak Hmry Dil Se Nahi Nikle.!
---
Pyar mein Dhokha tab tak,

Kry gay log,

Pyar jab tak dil ki jagah,

Jism se kry gay log.!

 
बहुत तलाश ? किया पर कहीं गुम हो गए वो,

ढूंढने ? की कोशिश की पर नहीं मिले वो,

मेने तो वफ़ाई की लेकिन.. उसके प्यार ♥️ में शायद खोट था,

इसलिए तो किसी और के बाहों ? में खो गए वो.!
,ہم نے جانا تھا لکھے گا تو کوئی حرف اے میرؔ

!.پر ترا نامہ تو اک شوق کا دفتر نکلا
Teri Dosti Ne Diya Sakoon Itna Ki Tere,

Bad Koi Acha Bhi Na Lage,

Tujhe Karni Ho Bewafai To Is Qadar Krna Ki,

Tere Baad Koi Bewafa Bhi Na Lage.!
---
Chod to dia mujhe par ye socha hai kbhi tmny,

Ab jab bhi jhoot bolo ge to kasam kis ki khao gi.!

 
सच्चा इश्क किया था,

तो अब, हम भी बेवफाई के गीत गायेंगे, 

बेवफाई में तेरा नाम न उठे,

इसलिए हम आसू लेकर हर शहर मुकुरायेंगे.!
,ہم کو ان سے وفا کی ہے امید

!.جو نہیں جانتے وفا کیا ہے

 
Suna Hai Wo Jate Hue Keh,

Gay, ke Ab To Hum Sirf Tumare,

Khwabo Me Aaya gay, Koi Keh De,

Unse Ke Wo Wada Kar Lee,Hum,

Zindagi Bhar Ke Liye So Jaye gay.!
---
Tujhe bhulny ke humne naa Jane Kitne koshise ki,

Mgar is waqt ne bhi hamse bewafai ke.!
अर्ज़ किया है- तुमने हमें ? धोखा दिया,

मगर ❤️ तुम्हे प्यार मिले ,

मुझसे भी ज़्यादा ? दीवाना,

तुम्हे कोई ? यार मिले .!

 
,اور کیا دیکھنے کو باقی ہے

!.آپ سے دل لگا کے دیکھ لیا
Wo Itne kabil Ho Gaye Hai ki,

Ab hum unke kabil Nahi the.!
---
Dard Itna tha Zindagi Mein Ki Dhadkan Saath Dene Se Ghabra Gayi,

Aankhein Band Thi Kisi Ki Yaad Mein Or Maut Dhokha Kha Gayi.!
तेरे बिन टूट कर बिखर जाएंगे ,

तुम मिल जाओ तो गुलशन की तरह खिल जाएंगे,

तुम ना मिली तो जीते जी मर जाएंगे,

तुम्हे जो पा लिया तो मर कर भी जी जाएंगे.!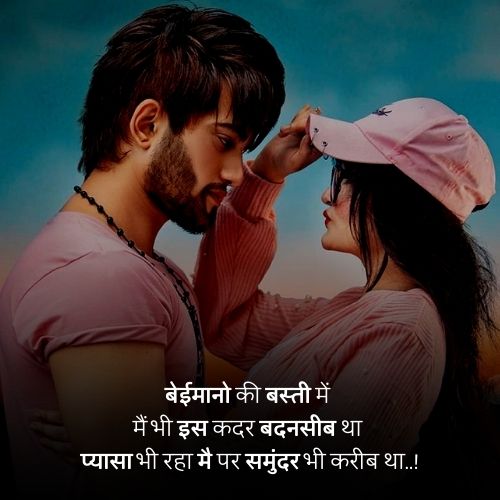 ,نہ جانے کون سا آسیب دل میں بستا ہے

!.کہ جو بھی ٹھہرا وہ آخر مکان چھوڑ گیا
Mohabbat ki duniya mein akr to dekho,

Kisi se dil laga kar to dekho,

Samjh jao ge ki dard kya hota hai,

Kbhi ishq mein thokar kha kar to dekho.!
---