A huge collection of Breakup Shayari Urdu Hindi sad Shayari Dard bri Shayari Aqwal e Zareen Urdu Hindi quotes Bewafa Shayari heart touching Urdu Shayari Hindi Shayari 2 line poetry best-Shayari photos 2/4 lines poetry sad poetry Whatsapp status Shayari love sad Whatsapp status images 2021.
Best Breakup Shayari in Urdu/English|Very Sad Love, GF, BF, Husband Wife Massages.
वक़्त के मोड़ पे ये कैसा वक़्त आया है,

ज़ख़्म दिल का ज़ुबाँ पर आया है,

न रोते थे कभी काँटों की चुभन से,

आज न जाने क्यों फूलों की खुशबू से रोना आया है.!
See Also: One Sided Love Shayari In English, Urdu, Hindi
रास्ता ऐसा भी दुशवार न था,

बस उसको हमारी चाहत पे ऐतबार न था,

वो चल न सकी हमारे साथ वरना,

हमें तो जान देने से भी इनकार न था.!
,بہت قریب آکر بتایا اس نے

!دور ایسے جاتے ہیں۔
,روز تھکتا ہوں کر کر کے مرمت اپنی 

!.روز ایک نقص نیا مجھ میں نکل آتا ہے
Humne Bhi Kisi Se Pyar Kiya Tha,

Kam Nahi Beshumar Kiya Tha,

Zindagi Bdal Gai Thi Tab Usne Kaha K,

Pagal Tu Sach Samjh Baitha Mainy To Mazak Kia Tha.!
Each time I clear my thoughts of you,

 I think that I m doing fine,

someone goes and speaks your name,

and once again you are on my mind.!
---
दिल के लुट जाने का इजहार जरुरी तो नहीं,

यह तमाशा सारे बाजार जरुरी तो नहि,

मुझे था इश्क तेरि रुह से और अब भि हैं,

जिस्म से कोई सरोकार जरुरी तो नहीं.!
राज़ खोल देते हैं नाजुक से इशारे अक्सर,

कितनी खामोश मोहब्बत की जुबान होती है.!
,یہ تیری دید سے پہلے کی بات ہے

!.ہم جیسے لوگ محبت سے باز رہتے تھے
,اس نے کہا بتا کیسے سمجھوں تیرے درد کو

!.میں نے کہا عشق کر بہت کر انتہا کر اور ہار جا
Ab ye bhī nahīñ Thiik ki har dard miTā deñ,

Kuch dard kaleje se lagne ke liye haiñ.!
Each time I realize my life much better,

& I think that I could not ask for more,

I always dream of you and me together,

and once again tears fall to the floor.!
---
दिल से शायरी करना भी कोई मामूली बात नहीं है दोस्तों,

जितनी गहरी आह होगी उतनी ही ज्यादा वाह-वाह होगी.!
प्यार बहुत करते है तुमहे,

कहने वाले कह कर चले गये,

 हम तो आने का इंतजार करते रहे,

लेकिन " मजाक " बता कर चले गये.!
,یعنی اب تم کو بھی، ان میں شمار ہونا ہے

!.لوگ جتنے بھی، دل سے اتر گئے میرے
,تجھے مجھ سے جدا کیوں نہ کرتے لوگ ,

کسی کو خوش کہاں دیکھ سکتے ہیں زمانے والے

,اب بس کر چھوڑ دے سوچنا ثانی اس کے بارے میں

!,تا عمر ساتھ کہاں نبہاتے ہیں دل بہلانے والے
Wo Nadan Hai Batein Samajhte Nahi,

Yeh Din Yeh Ratein Samjahte Nahi,

Main Paas Bhi Jaun To Dar Jate Hain,

Main Dard Nahi Dawa Hun Samajhte Nahi.!
Everyones Life starts with a full bag of Luck and an empty bag of experience,

Trick is to fill the bag of experience before Luck runs out.!
---
एक खता हुई है हमसें, जो तेरा दीदार कर लिया,

दुसरा तो गुनाह ही हो गया, जो तुमसें ही प्यार कर लिया.!
मीठी रातो में धीरे से आ जाती है एक परी,

कुछ खुसी के सपने लाती एक परी,

कहती है कि सपनो के सागर में डूब जाओ,

भूल के सारे दर्द जल्दी से सो जाओ.!
,نہیں ہے ہمارا حال کچھ تمہارے حال سے الگ

!,بس فرق اتنا ہے تم یاد کرتے ہو اور ہم بھول ہی نہیں پاتے
,آج خود کا ضمیر سوال کر بیٹھا

!.کہاں ہے وہ محبّت جس پر تجھے ناز تھا 
Wo Kisi ki Dil Lagi ko Saza Smjny Laga,

Do pal Roth k Guzare to Jafa Samjny Laga,

Wo kia jany k hum ktna roye unke Baghair,

Wo Baghair soche smje muje bewfa Samjne Laga.!
Once A Guy Who Recently Had A Break-off,

Wid Her Girl Friend Was Asked,

"Have U Left Ur Girl Friend Or She Left U?

He Smiled And Answered.

"Love Left Us"..!
---
सुना है उसकी मोहब्बत दुआएं देती है,

जो दिल पे चोट खाए मगर गिला ना करे.!
दिल लगाना है तो सोच समझ कर लगाये,

क्यु कि हर कोई " हम जैसे सरिफ " नहीं होते.!
,مرتا تھا جو ہر دم تجھ پہ

!.صد افسوس اب وہ دل نہ رہا
,محبّت کی کہانی میں کہاں یہ موڑ آتے ہیں

!.جنہیں ہم دل میں رکھتے ہے وہی دل تھوڑ جاتے ہی
KOI ACHA LAGY TOH UNSE PYAR MAT KRNA,

UNKE LIYE APNE NIDE BEKAR MAT KARNA,

DO DIN TOH  AYE GA KHUSHI SE MILNY,

TISARE DIN KHY GA " INTAZAR MAT KARNA.!
How is that I cry all night,

Yet all you do is smile,

And think everything is all right, 

How is it that when I look up at you,

You cant look me in my eyes.!
Love Breakup Shayari in Urdu
خُدا کی مرضی بول کر مجھ سے بچھڑ گیا"

"ایک شخص خُدا کے نام پر فریب کر گیا
مرشد ہمارا خوابِ محبت بکھر گیا"

"مرشد وہ ایک شخص بھی بدل گیا
ترے کہنے پہ چھوڑا ہے تجھے"

"زمانے سے نہ کہنا بے وفا ہوں
کیا شخص تھا جس نے قیامت کر دی"

"رات بھر جاگنا میری عادت کر دی
چھوڑو وضاحت مختصر کرتے ہیں"

"مجبوریاں تب ہی آتیں ہیں جب دل بھرتے ہیں
اور پھر میں نے اس شخص کو آزاد کر دیا"

"جس کے جانے سے میری جان جایا کرتی تھی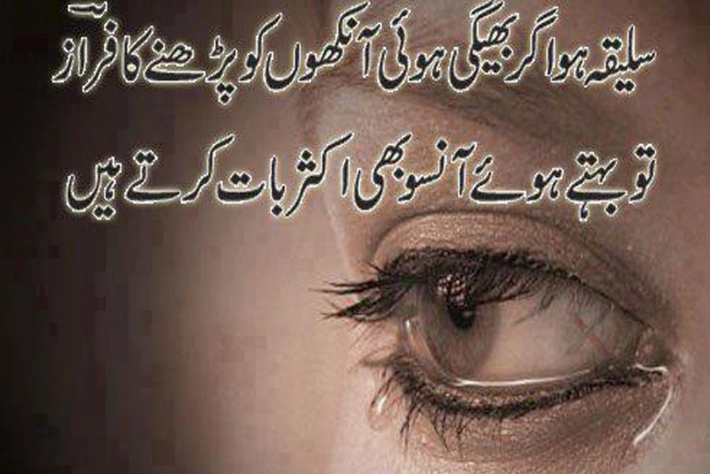 آئیں گے یاد تجھے ہم بے انتہا"

"تیرے اپنے ہی فیصلے تجھے بہت رُلائیں گے
تیری ہی یاد میں گزر جاتی ہے"

"وہ جسے لوگ رات کہتے ہیں
عشق ٹوٹا، ساتھ چھوٹا، دل بھی ٹوٹا"

"تم بتاو یہ خسارے عام سے ہیں
چپ چاپ گزار دیں گے اس کے بنا بھی یہ زندگی"

"لوگوں کو سکھا دیں گے کہ محبت ایسی بھی ہوتی ہے