Check Out Eid e Zehra Mubarak Shayari In Urdu Language and also Read In Different Languages. The 9th of Rabi'al Awwal marks a turning point in the history of the AhlulBayt (peace be upon them) and their followers. This day, which is affectionately known as Eid-e-Zehra – in reference to the daughter of the Prophet Muhammad (may the prayers of Allah be upon him and his family) – is a day of joy and happiness for the lovers of the AhlulBayt (peace be upon them) and Stay Tuned For More Poetry On Our Site.
Best Two Lines Shayari Janabe Fatema Zahra (sa)
Jaha Hota Hai Tere Katilo Ka Tazkerah Zahra (sa)

Tabarre Ke Liye Hum Ko Lahu Majbur Karta Hai !
Is baat par Khuda ki tarah se yaqeen hai,

Dil Fatima ka jisne dukhaya laeen hai.
Haqqe zahra (s)ke mukhalif se mohabbat main karun

Mujhko to Bar Umar Lanat mein maza aata hai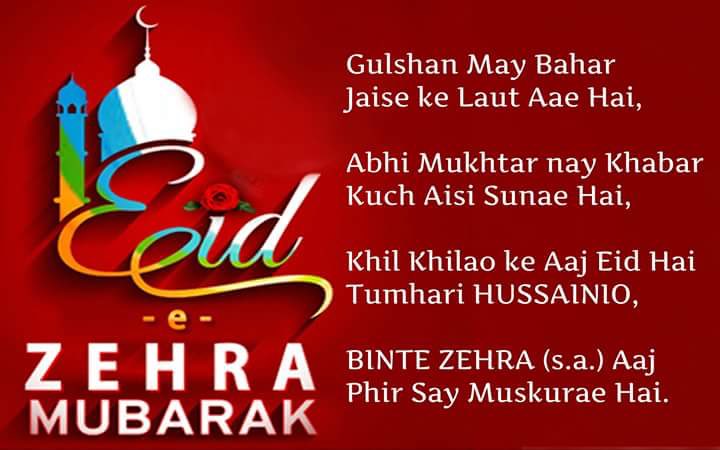 Zehra (s)ka ghar jalaya tha jis laanati ne aag se

Showlo me uske jal gaya khaimaa husain (a) kaa
Dawa To bahut Hai Tere Ishq E Rasul (saw) Ke

Firr Kyu Tujhe Pasand Hai Katil Butool (sa) Ke
Zehra (s.a.) ke dushmano ke muqaddar se khauf khaa

Dozakh bhi unke jurm ki poori sazaa nahi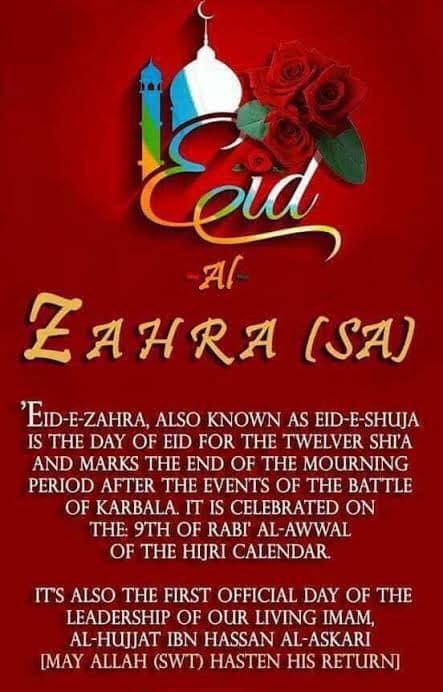 Wo kitney badnaseeb hain jinke wajood per

Karti rahi BATOOL(sa) shikayet Namaaz mein
Jis Jism Pe Adawate Zahra (sa) Ki Khaaq Hai,

Bas Samjho Wo Shaheed Bhi Ho To Halaaq Hai
Mai kayse mustufaa ka use jaanashin kahu,

Jin kafiro ne Fatema s.a. ka ghar jala diya
EID E ZAHRA (SA) KI MUNASEBAT SE Shayari
Eid e Zahra (sa) Manane Aaya Hu,

Apnaa Emaan Sajaane Aaya Hu,

Jis Ne Zahra (sa) Ka Ghar Jalaya Tha.

Uska Putlaa Jalaane Aaya Hu.
Khila khila huwa har hussaini chehra hai,

murjhaya huwa har ek yazidi shajra hai,

bint e zehra aaj fir muskurayi hai,

khusyan manao k aaj eid e zehra hai
Gulshan me bahar jaise kya lout ayi he,

Abhi mukhtar nay khabar kuch aisi sunai he,

Khilkhilao kya aaj eid hai tumhari husinio,

Bint e zahra bhi aaj phir se muskurai hai.
Eid e Zehra ki khushi main aur izaafa ho jaaye

Ab jald se zuhor e Imam e Zamaan ho jaye

Hum bhi muskuraye misle Sajjad aaj se

Daur e haazir ke Umar ka khatama ho jaaye
Sajjad (a) Ki Muskan se Lagta Hai Iss Tarah

Hastey Hue Quran Ki Deed Hogayi

Dekho toh Karam Kaisa ye Hum pe Hua Hai

Aabid Muskuraye to Humari Eid Hogayi
Do maah gam e Shah main hum ashk bahate hai

Apni mohabbat ka ye rukh bhi dikhate hai

Aik pal thama gam jo sayyad e sajjad ka

Us aaik tabassum ka hum jashn manate
Kuch log keh rahe hain fazilat ki raat hai

Kuch keh rahe khoobi e qismat ki raat hai

Sab ne sahi kaha hai magar apne wastey

ZAHRA ke dushmano se bara'at ki raat hai
Sharafato Ka Libaada Udhaa Nahi Sakte,

Zaleel Logo Ko Izzat Dila Nahi Sakte,

Jise Nazro Se giraan De Rasool Ki Beti,

Crane Laake Bhi Usko Utha Nahi Sakte.
Zahra (sa) Ki Manqabat Me Hamesha Rahe Khayal

Lafzo Me Saadgi Ho Zyada Hunar Na Ho

Peshe Khuda Kalam Mera moatabar Na Ho

Zahra (sa) Ke Katilo Pe Tabarra Agar Na Ho
Quraan Kehraha Hai Ke Batil Hai Saara Deen

Sarwar Ki Laadli Se Mawaddat Kiye Baghair

Paani Ki Ek Boond Bhi Pina Haram

Zahra (sa) Ke Dushmano Pe Tabarrah Kiye Baghair.
Har taraf Guftugu Khushi ki hai.

Woh jo tha Khaak, Aaj Khaak hua.


Jisne Haq Fatema ka Chheena tha.


Aaj Mardood woh Halaak hua.
Zahra (sa) Ke Katilo Pe Tabarrah Kiye Bagair,

Jannat Koi Na Jayega Aisa Kiye Bagair.


Deta Hai Bhik Aaj Bhi Zahra (sa) Ka Khandaan


Insaan Ke Zamir Ko Ruswa Kiye Bagair.


Janab Hilal Naqvi Sahab
Jannat Ka Shahzada Pisar Fatema (sa) Ka Hai

Kahte Hai Khuld Jis Ko Wo Ghar Fatema (sa) Ka Hai


Baghe Fedak (khums) Ko Lutne Wale Ye Jaan Le


Parde Me Jo Hai Noor e Nazar Fatema (sa) Ka Hai.
Saañs hai Zehra ke Adoo ke liye Laanat.

Laanat ki Alag se kabhi Zehmat nahin karte.

Zehra Ke Sitamgar pe Khuda karta hai Laanat.

Tum kaise Musalmaan ho Laanat nahin karte.
Ho tou jaoon mein Musalman magar ek gham hey

Ho na jaoon kahin rastay ko bhulanay walau

Sun Bhi rakha hey, kitabon mein perha hey mein nay


Ek Musalman tha Zahra (sa) ko rulanay wala.
Kis Balandi Pe Tasadduq Hai Tera Aye Zehra (sa)

Sar Farishton Ke Tere Dar Pa Jhuka Karte Hain
Tum Ettehaad Badhaaney Ki Baat Karte Ho,

Nadi Me Aag Lagaane ki Baat karte Ho,

Jise Husain Ki maadar s.a. Na Den Jawab e Salam,


Tum Unse Haath Milane Ki Baat Kartey Ho
Iska Emkan Ho Nahen Sakta

Kufr, Iman Ho nahen Sakta
Eid e Zehra Mubarak Shayari
Ye Musalman To Bas Hai Fakat Zinda Laashe,

Har Azaadar Ko Zahra (sa) Ki Dua Kehte Hai.
Janaze ittehadiyo ke abb nikalte hai,

Jo Dushmano ko kehrahe hai bade Bhaai hai.

Hasan tum bhejte raho Umar per laanat,

Fatima (s) khush hai usise Jo Tabarrayi hai
Mehshar mai mureedo se kuch Ustad kahenge
Hum khud hain pareshaan tumhe apni padi hai
Wo Dubb Jaate Hai Farzande Nuh Ki surat

Safine Chalte Hai Jinke Hawa Ki Marzi Se

Banaa Lo Tum Razi Allah Jisko Chahe Magar

Najaat Hogi Fakat Sayyada (sa) Ki Marzi Se
Maqaam e fakhr yehi hai usool Raazi ho,
Wo khush-naseeb hai jis se Rasool (saw) Raazi ho
Har dushman-e-Zehra se adawat hey zaroori

Ho baat aqeeday ki tou socha nahi kertay

Bay-saakhta honton se nikal jati hey lanat

Hum log tabarray ka irada nahi kertay